Lifestyle
Chicago's First Vegan Taqueria Is Mexican Mom-Approved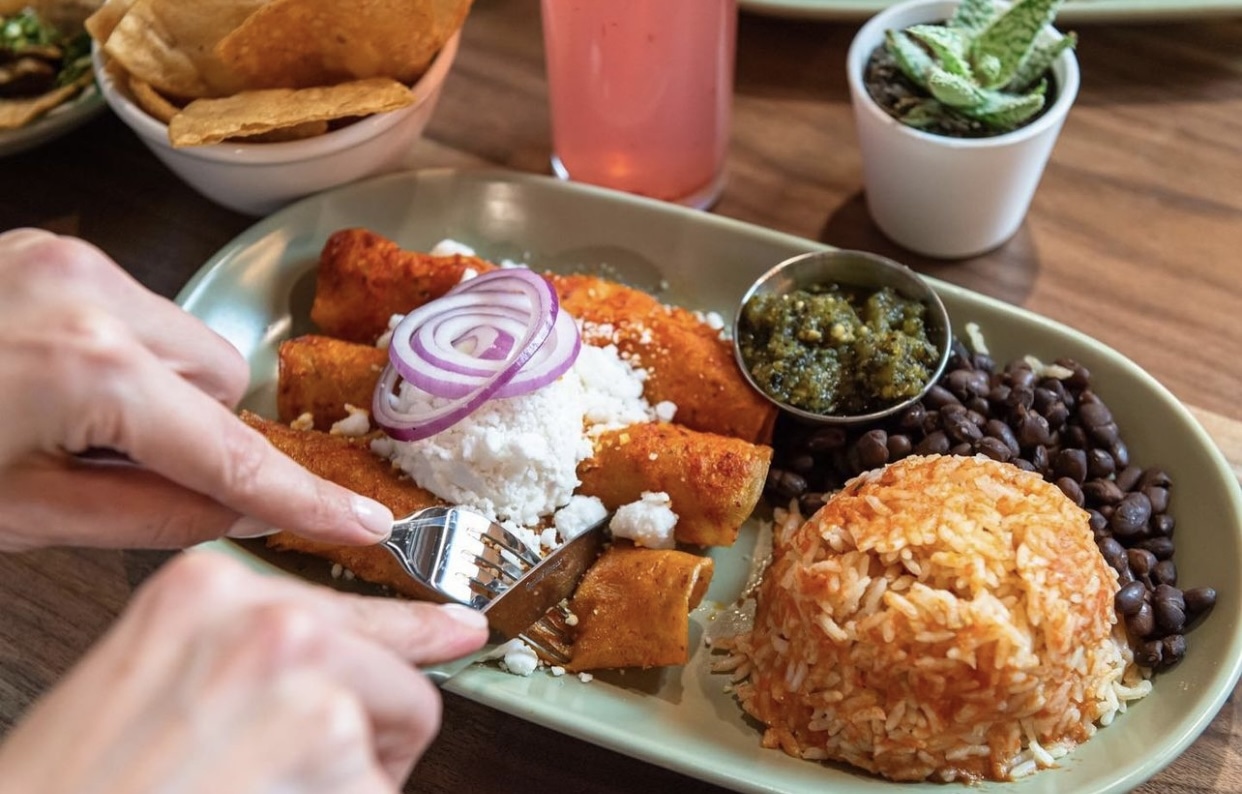 Family-owned and operated, Penelope's Vegan Taqueria first made headlines when it touched down in Chicago's River North neighborhood just last year, officially becoming the city's first plant-based taqueria. Last month, husband-and-wife team Chef Juan Lisandro Ramirez and Paloma Piña-Ramirez expanded their budding empire with a second location in Chicago's Andersonville neighborhood. 
Hungry patrons can expect a wide variety of vegan tacos made using different plant-based proteins. Classics such as soy al pastor, crispy soy chorizo and potato, and mushroom chimichurri featuring caramelized onions are all up for grabs. Also on the menu are more innovative options such as carnitas made using marinated pulled oats, fried beer-battered avocado baja tacos, and cauliflower al pastor marinated in the restaurant's signature guajillo sauce.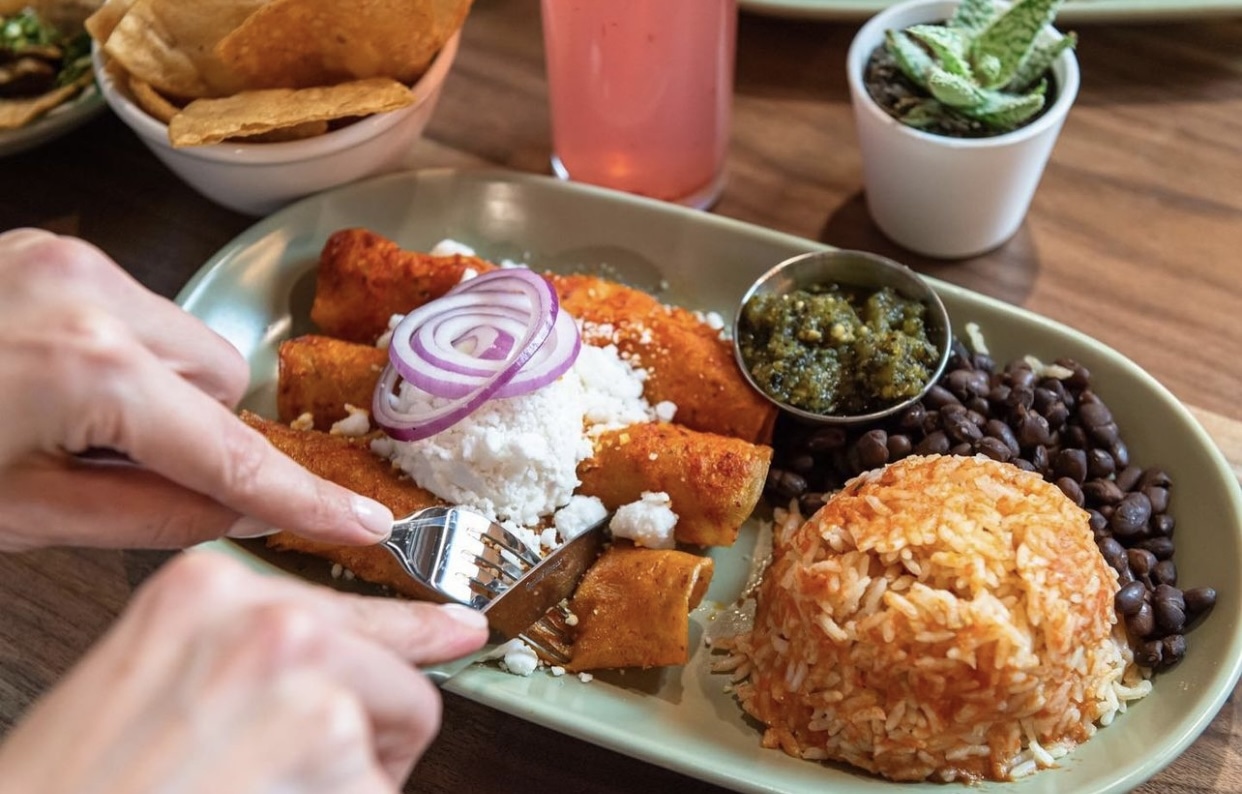 Penelope's Vegan Taqueria
Beyond tacos, Penelope's Vegan Taqueria offers a mix of traditional Mexican fare. Cheesy, potato-stuffed enchiladas; smokey mushroom quesabirria complete with vegetable broth for dipping; hominy-studded pozole; cauliflower ceviche; Mexican street corn dusted with Takis; and a selection of aguas frescas round out the restaurant's menu. 
Classic American fare is also reimagined with a Mexican twist. The Mexi-Burger features a Beyond Meat patty topped high with cheese, arugula, mayonnaise, onion, tomatoes, and spicy mango habanero pico de gallo. 
Already, new and old customers alike are flocking to Andersonville for a taste of Chef Ramirez's vegan dishes. "The response [from the local community] has been terrific," Ramirez tells VegNews. 
"We were sold out every evening in the first week and had many new customers and regulars that came by and showed their support," Ramirez says. "Many families with children, too, which is amazing to see."
Penelope's Vegan Taqueria takes root
While the flagship location of Penelope's Vegan Taqueria first opened last year in River North, Ramirez and Piña-Ramirez have long been slinging their fan-favorite, plant-based tacos. 
The two juggled day jobs—Ramirez worked as a restaurant chef while Piña-Ramirez worked in front-of-house operations for local hotels—while they chipped away at launching their own venture, Vegan Street Food Chicago.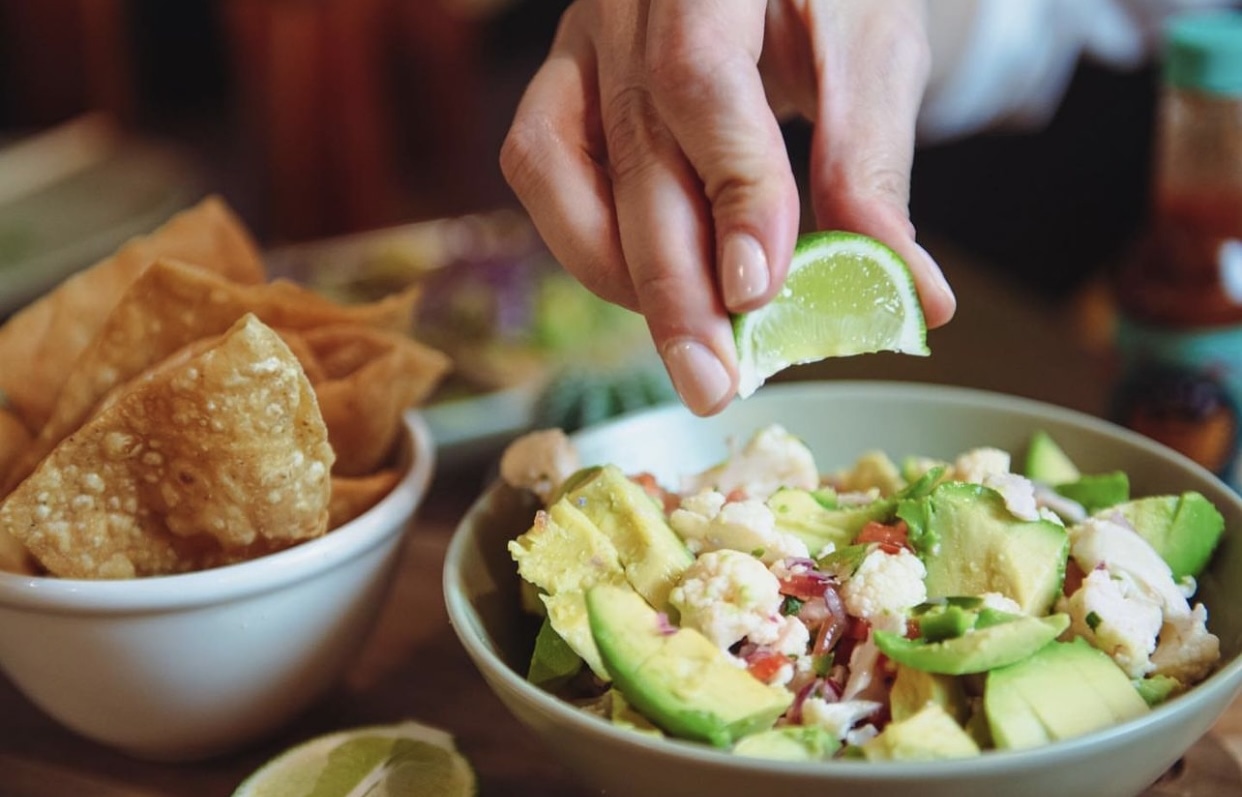 Penelope's Vegan Taqueria
In 2018, Vegan Street Food Chicago made its official pop-up debut and sold out within just two hours. The duo continued serving their vegan fare at weekend pop-ups and events while still working their day jobs, and in 2021, they used their life savings to lease and remodel their new restaurant space which would open the following year under the new name Penelope's Vegan Taqueria. 
Since day one, the husband-and-wife team knew they had something special, and they attribute their fan-favorite status to their family recipes. Chef Ramirez leans into recipes passed down by his mother and grandmother as well as those from Piña-Ramirez's own mother and grandmother. 
The chef, who grew up in the town of La Nopalera in Guanajuato, Mexico, takes pride in mulling over traditional recipes, experimenting with ways to veganize them without sacrificing the flavors and textures that generations have long loved. Ramirez taps into his childhood diet, the majority of which was plant-based, when cooking up new dishes.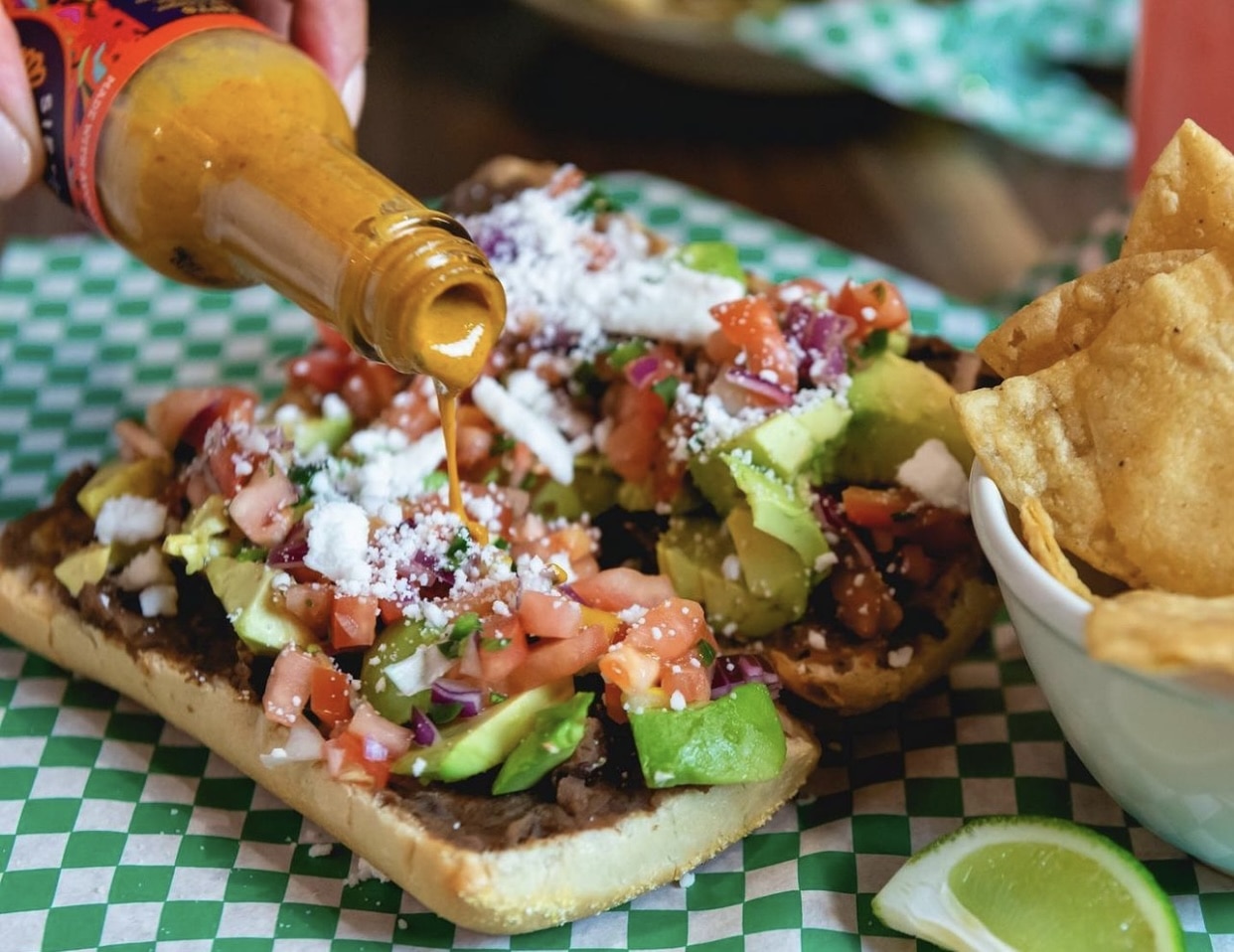 Penelope's Vegan Taqueria
"Growing up in Guanajuato as a child, I was used to eating a lot of grains, vegetables, fruits, and meat products on certain days based on the occasion," Ramirez says.
"Eighty percent of our recipes were considered plant-based when I was a child, and now I can keep using those ingredients without compromising on flavor, from our salsas to the bases we use to marinate our plant meats and our horchata recipe."
Tapping into his familiarity with childhood ingredients and constant menu innovation is paying off. Locals aren't the only ones flocking to Penelope's Vegan Taqueria. The chef's mother gives the plant-based taqueria her own seal of approval.
"My mother has visited the restaurant a few times during her visits to Chicago, and she loves the concept," Ramirez says. 
And when each dish is thoroughly vetted by non-vegans, and sometimes reimagined, before it's added to the menu, it's no surprise consumers can't get enough of Ramirez's vegan tacos. 
"Most of our family and close friends are all non-vegans. They [eat] meat and dairy products," he says. "Whenever I am ready to introduce a new dish, we have at least 10 people—family, friends, and team members—try the dish." 
"Based on feedback, we either make changes or add the dish to the menu immediately," Ramirez explains. "We have a lot of [non-vegan] customers who are regulars and love the flavor of our food and how it makes them feel."
But who is Penelope?
At Penelope's Vegan Taqueria, it's a family affair—from the husband-and-wife team spearheading the operation to family-inspired recipes to the restaurant's name.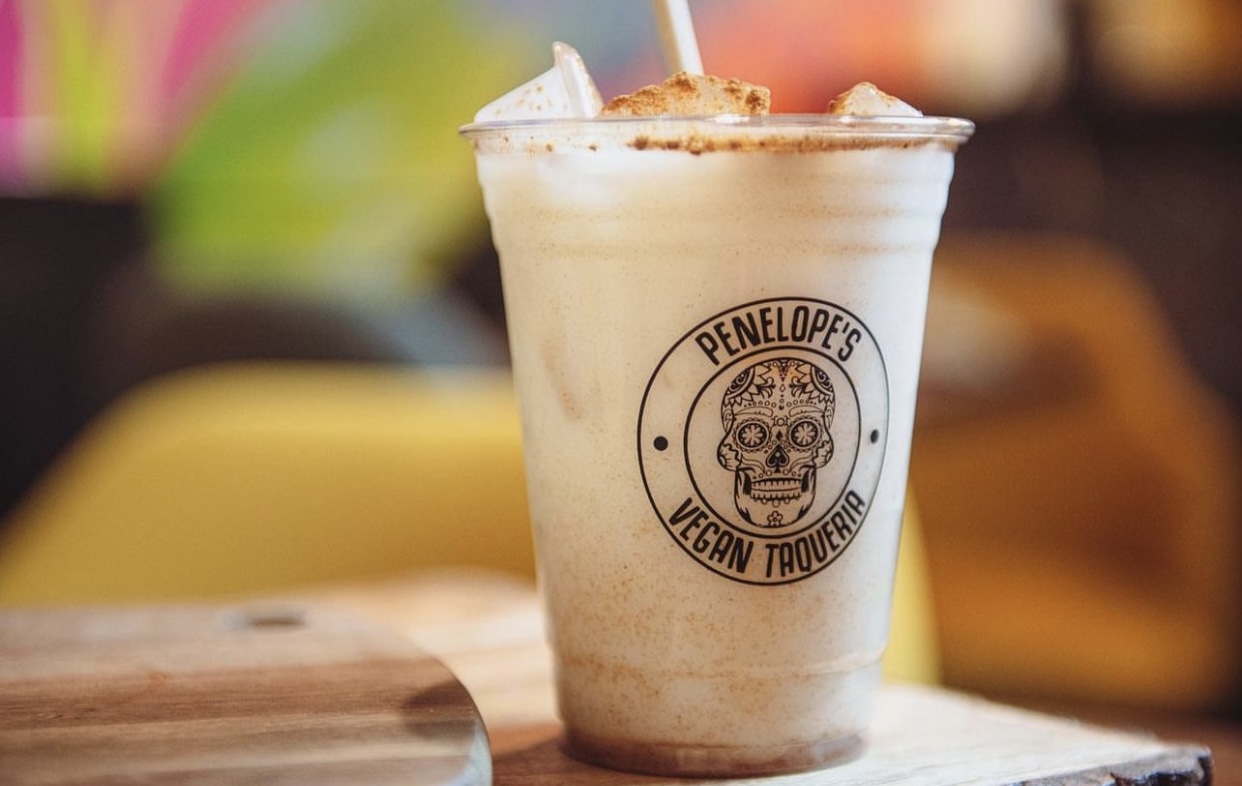 Penelope's Vegan Taqueria
The taqueria is named after Ramirez and Piña-Ramirez's young daughter, who the couple is raising vegan. Longtime vegans themselves, the couple couldn't imagine raising their daughter any other way after they experienced the plethora of benefits that come with eating plant-based. 
Today, Vegan Street Food Chicago serves as the parent company of Penelope's Vegan Taqueria. The husband-and-wife team hopes to expand their business with new, vegan concepts in the future.
For the latest vegan news, read: