Lifestyle
Where to Get the Creamiest, Tastiest Vegan Milkshakes Across the US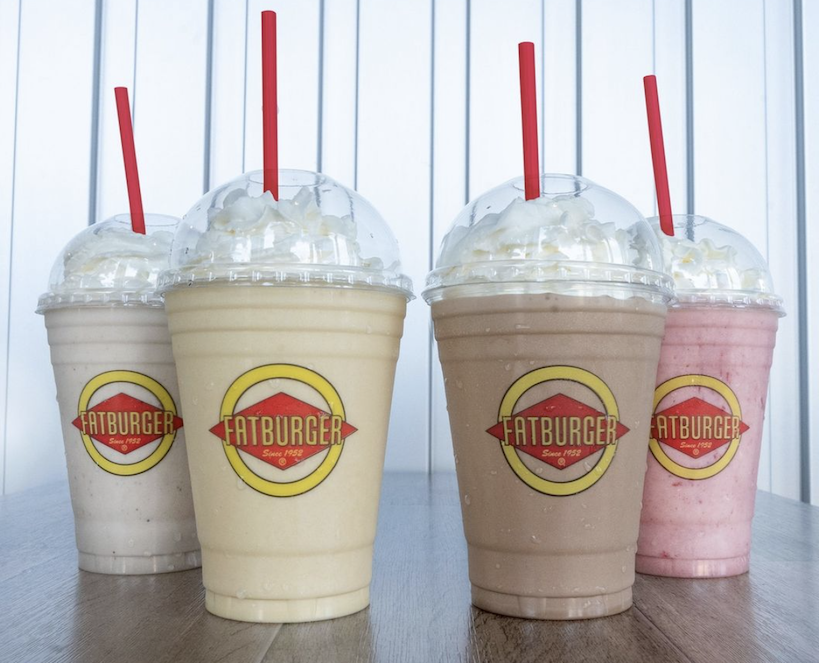 Let's not fool ourselves—milkshakes are mostly ice cream, not milk. But that's what makes them so slurpable. When drinking a milkshake, it's socially acceptable to order dessert first. After all, who doesn't start a meal by ordering a beverage before the entrée? A shake is meant to be enjoyed with a burger and fries—and if you really love a salty and sweet bite, you dip your fries in your shake. While these sweet treats often take a back seat to more popular desserts like ice cream, cakes, and cookies, the milkshake certainly deserves its time in one's treat rotation. From simple and pure vanilla to outlandish Crazyshakes, here are 16 fabulous vegan milkshakes that truly are the maraschino cherry on top.
What's in a vegan milkshake?
Most milkshakes are, of course, made with cow's milk. But thanks to the wide variety of plant-based milk products on the market, it's easier than ever to make a milkshake that's totally animal-free. All you need to do is blend up your favorite fruits, chocolate, or nuts with vegan milk of your choice, and voilà: It's a plant-based shake. If you want to try it for yourself, we recommend this delicious toasted marshmallow pecan milkshake recipe.But if you just want to sit back and relax while someone whips up a delicious creamy treat for you, we recommend heading to one of the places below.
Where to get vegan milkshakes in the US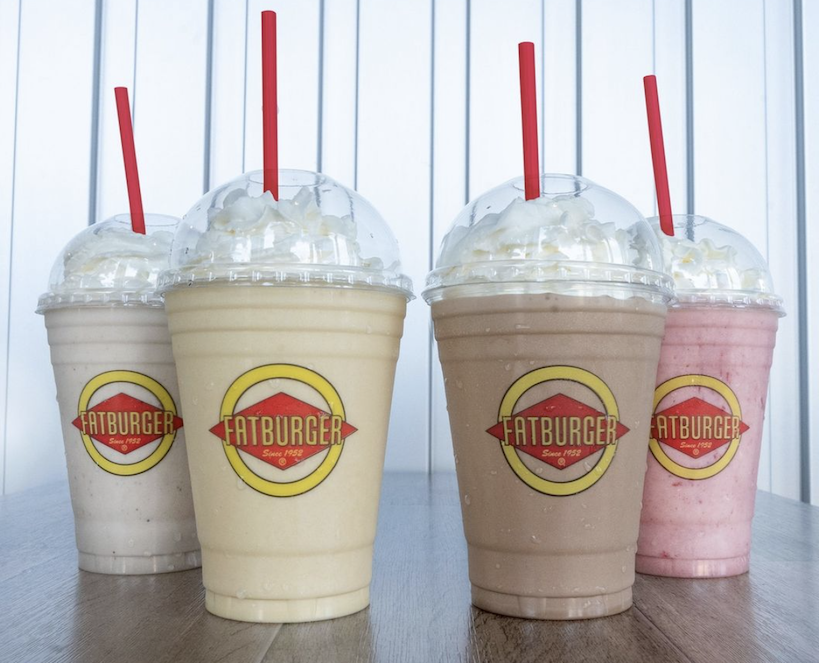 Fatburger
1 Fatburger
Fatburger hasn't gone vegan yet, but the fast-casual burger joint does offer a handful of vegan options to rival its animal-based menu. The strawberry, chocolate, Maui banana, and vanilla vegan milkshakes, made with Craig's Vegan Ice Cream and dairy-free whip, are unfussy yet wholly satisfying. If you crave some texture in your shake, you can add Oreos by asking nicely (it's somewhat of a secret menu item). Pair your treat with a vegan Impossible Burger and Fat Fries or crinkly sweet potato fries. 
Find out more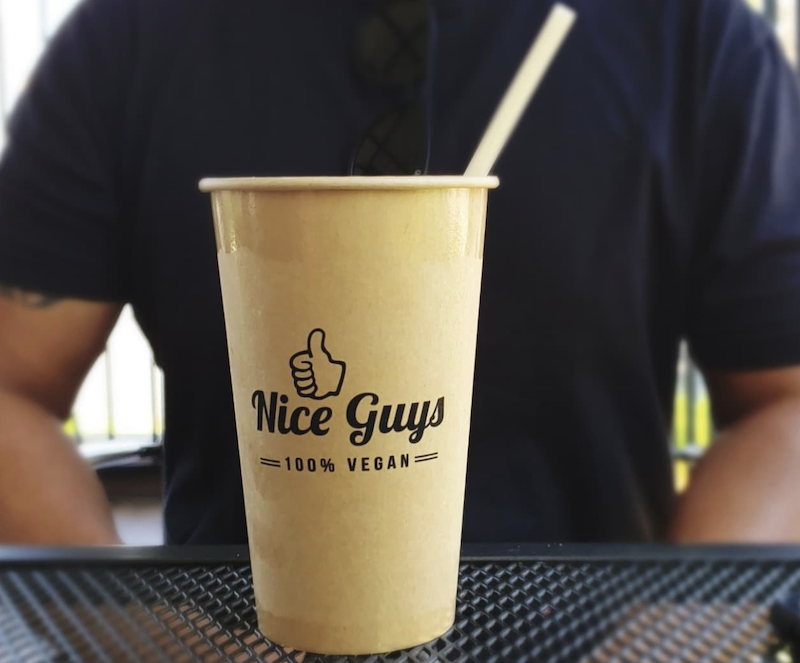 Nice Guys
2 Nice Guys
This Costa Mesa, CA hole-in-the-wall serves up vegan renditions of fast-food favorites, and it doesn't skimp on the milkshakes. Unlike some of the over-the-top burgers on the menu, Nice Guys' Moo Shakes aren't elaborate. Customers have their choice of vanilla or strawberry. Depending on location, additional milkshake flavors include chocolate and malt. Local tip: malt is the way to go—you don't find a vegan malt every day. 
Find out more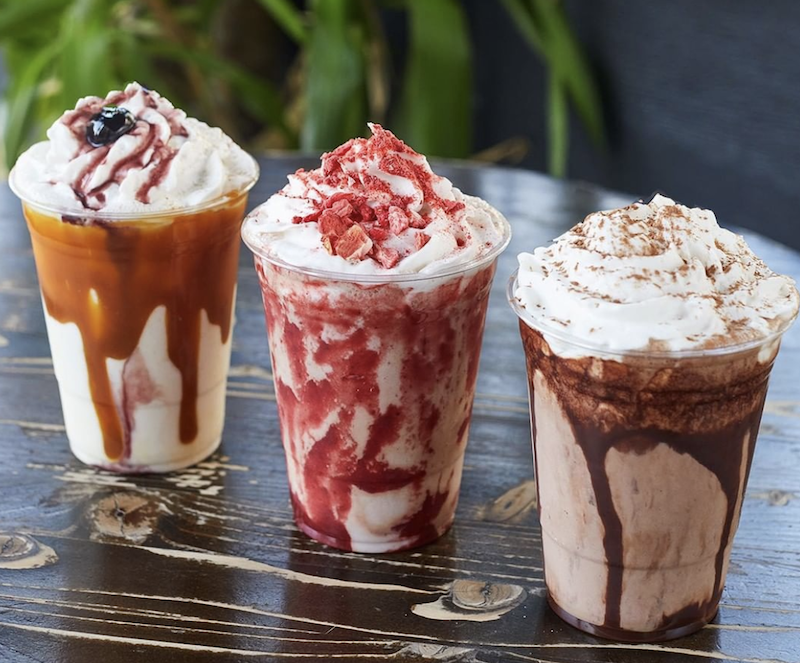 Modern Love
3 Modern Love
Straddling both Omaha, NE and Brooklyn, NY, this refined vegan diner combines sophisticated food with a relaxed setting. The mouthwatering menu is vast and prompts decision fatigue, but a non-negotiable is a milkshake. Standard shakes remind us of something we might get from an old-time ice cream parlor—think Strawberry Swirl and Peanut Butter Chocolate served in a tall glass, syrup streaming down the sides. If you want (or need) something stronger while dining at Modern Love's Omaha outpost, a boozy milkshake won't disappoint. You can add a "spike" of alcohol for an extra $3. 
Find out more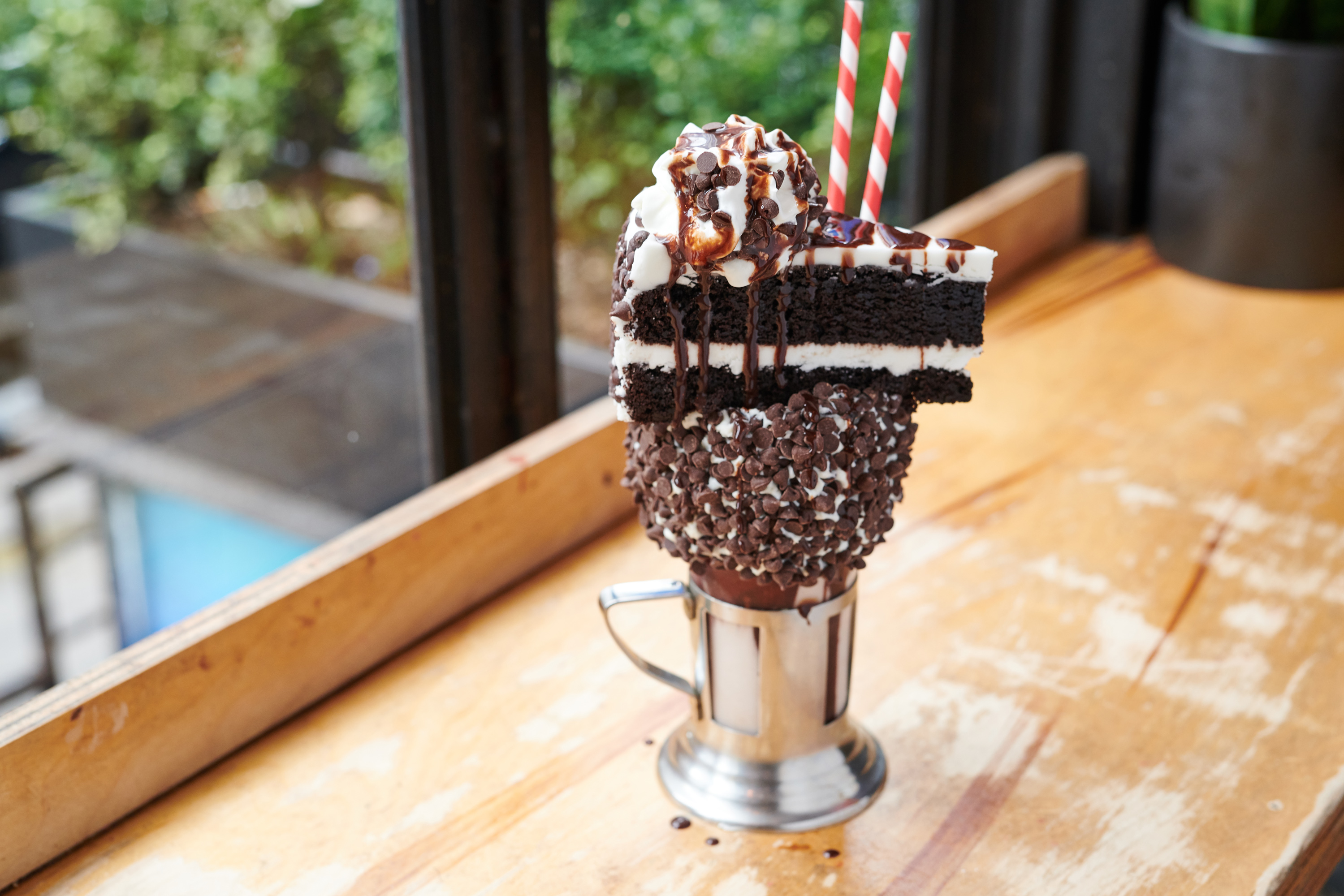 Black Tap
4 Black Tap
At this massive craft beer and burger restaurant, more is more, and then some. The chain is known for its Crazyshakes—milkshakes topped with far more than whipped cream and a cherry. The rims are coated in frosting to adhere adornments like chocolate chips, nuts, or crushed Oreos; whipped cream is used as spackle for cookies and candy, and the entire thing is often topped with another dessert such as a massive brownie or two-layer cake slice. All shakes (both crazy and classic) can be ordered with vegan ice cream and dairy-free whipped cream, but not all of the toppings are vegan. Opt for the Vegan Black 'N White Cakeshake to receive a completely plant-based chocolate shake covered with vanilla frosting, mini chocolate chips, a Black 'n White cake slice, whipped cream, and chocolate drizzle. We know we said milkshakes are meant to be enjoyed with a meal, but this one definitely leans toward the dessert time frame.
Find out more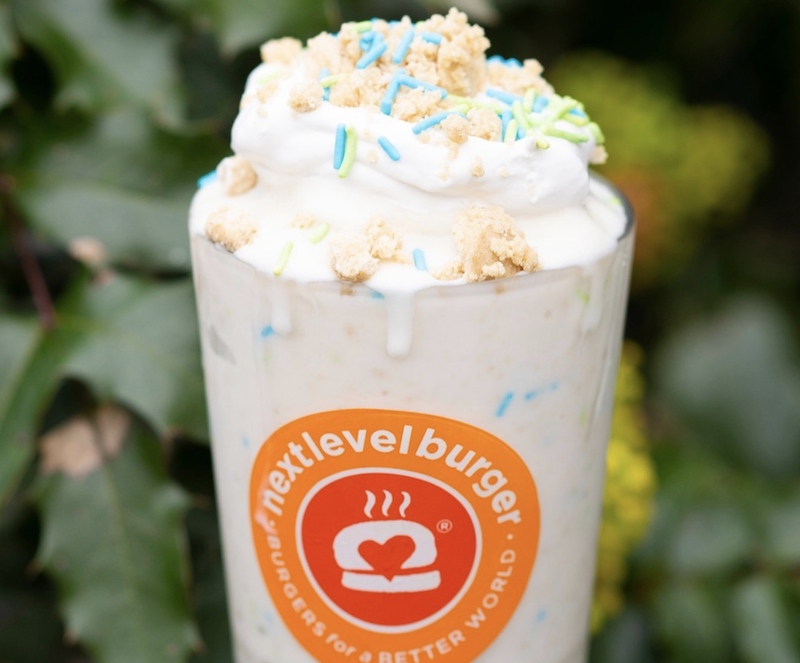 Next Level Burger
5 Next Level Burger
Shake-seekers in Portland, Seattle, San Francisco, and Houston can find a quality sip at any one of these Next Level Burger locations. Aptly dubbed Next Level Shakes, these desserts are thick and perfectly sweet. Flavors include peanut butter, cookies and cream, chocolate, and Orange Cream. The latter tastes like a creamsicle but is made without the chemicals and artificial flavors.  
Find out more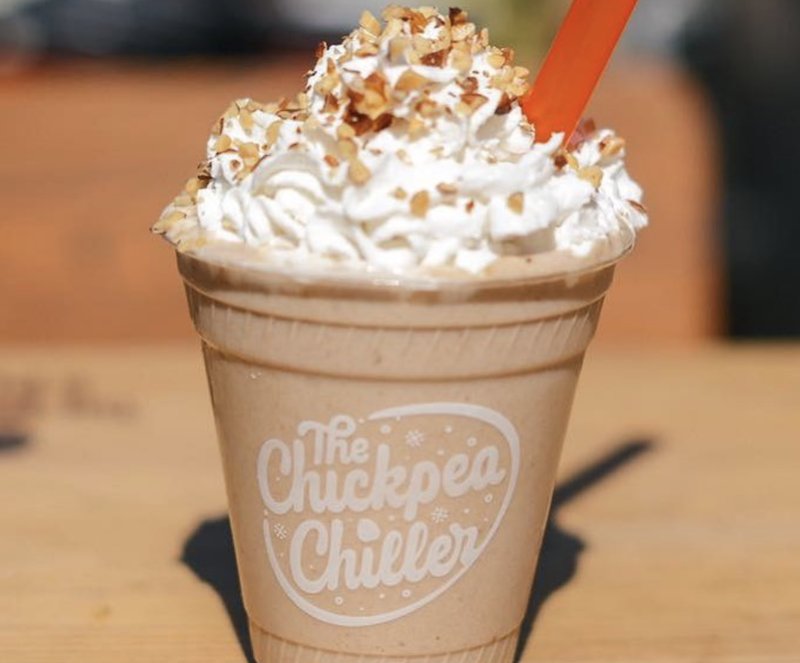 Hummus and Pita Co.
6 Hummus & Pita Co
This shake wins the award for most unique. The main ingredients may give you pause, but once you try it, you'll understand the hype is real. True to its name, this vegan milkshake is made with chickpeas and tahini—aka, hummus—and it's not a savory shake. A frozen banana and dates are enough to mask the chickpea flavor while the tahini adds an unexpected yet pleasant nuttiness. We highly recommend starting with the original, but the chain also offers chocolate, toasted almond, strawberry, butter pecan, pistachio, cold brew, and seasonal flavors. 
Find out more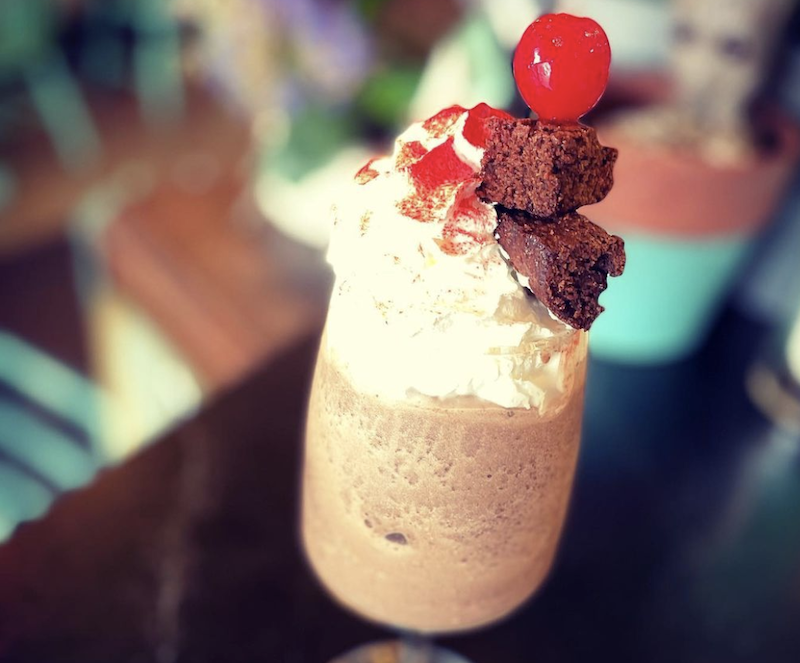 The Straw
7 The Straw Modern Milkshakes
Milkshakes are the main event at this nondescript Orange County strip mall eatery. Like Black Tap, the shakes here get a bit wild. Vegan options are available upon request, and thankfully, they're not limited in creativity. Try The Dentist—a cotton candy-flavored shake topped with sprinkles, a ring pop, a lollipop, and strawberry sauce. For a saltier option that still reminds you of childhood, opt for The Lunch Box. This secret menu item combines a Strawberry Jam bottom with a Peanut Butter Salted Pretzel shake topped with the non-dairy whip, a hard salted pretzel, and a triangular slice of toasted bread, with the crusts cut off, obviously. Boozy options are also available.  
Find out more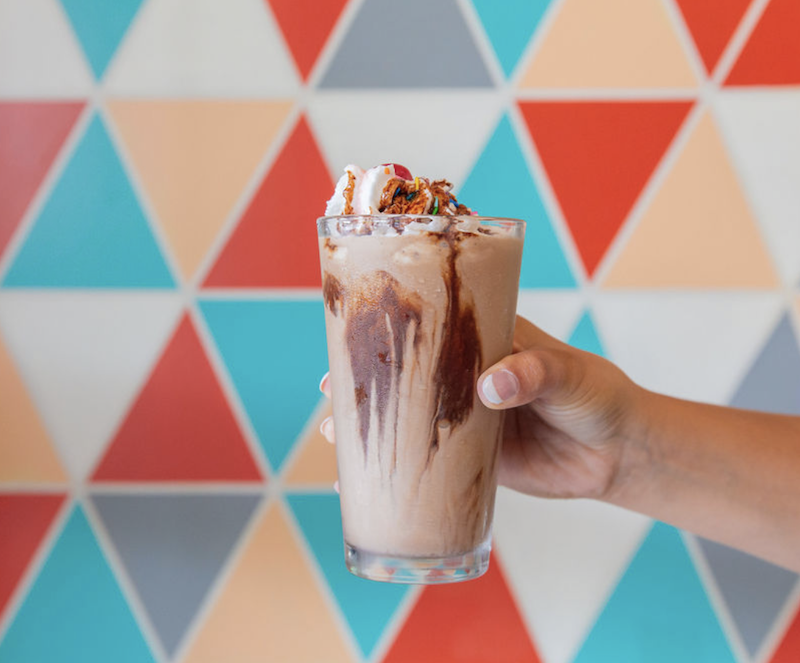 Spiral Diner
8 Spiral Diner
When in Texas, a stop at Spiral Diner & Bakery is a must. The old-school-style diner serves its shakes in a tall, frosted glass, topped with whipped cream and a maraschino cherry. Flavors span the usual suspects—chocolate, vanilla, and cookies and cream—but the standouts are the peanut butter and the Peanut Butter & Cookies. Also look for shake specials such as Salted Caramel or King's Cake Shake. 
Find out more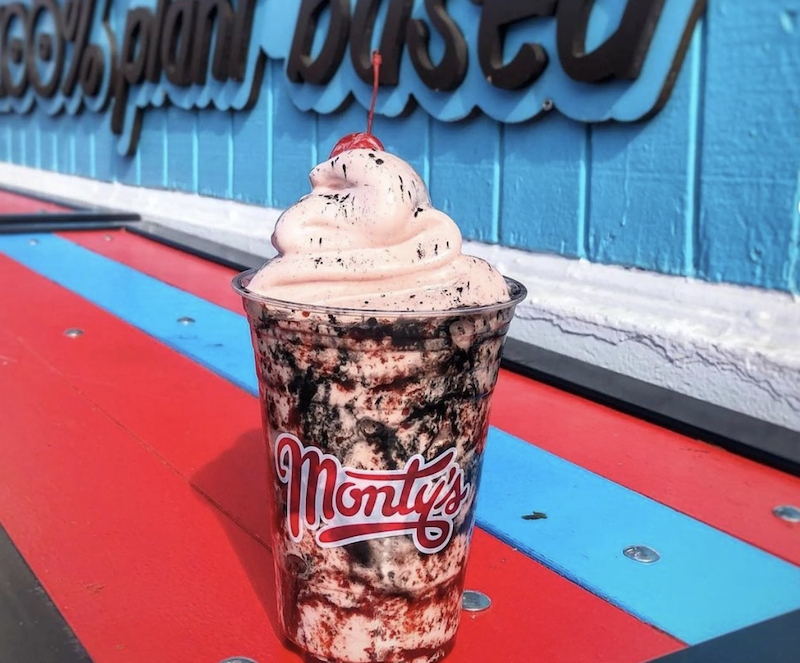 Monty's Good Burger
9 Monty's Good Burger
Those who long for In-N-Out shakes can find solace at Monty's Good Burger. This SoCal vegan burger chain features a streamlined menu of Impossible Burgers, fries, tots, and shakes—very similar to its non-vegan drive-thru muse. The brand does offer more involved flavors compared to In-N-Out's trio of chocolate, vanilla, and strawberry. True to its Los Angeles roots, Monty's Dodgerberry (a strawberry and blueberry blend to represent the city's pro baseball team) is an Echo Park neighborhood exclusive. Check outTravis' Oat Matcha Latte Shake (a collaboration with longtime vegan Travis Barker), or any of the seasonal varities at the chain's other Los Angeles or Riverside locations.
Find out more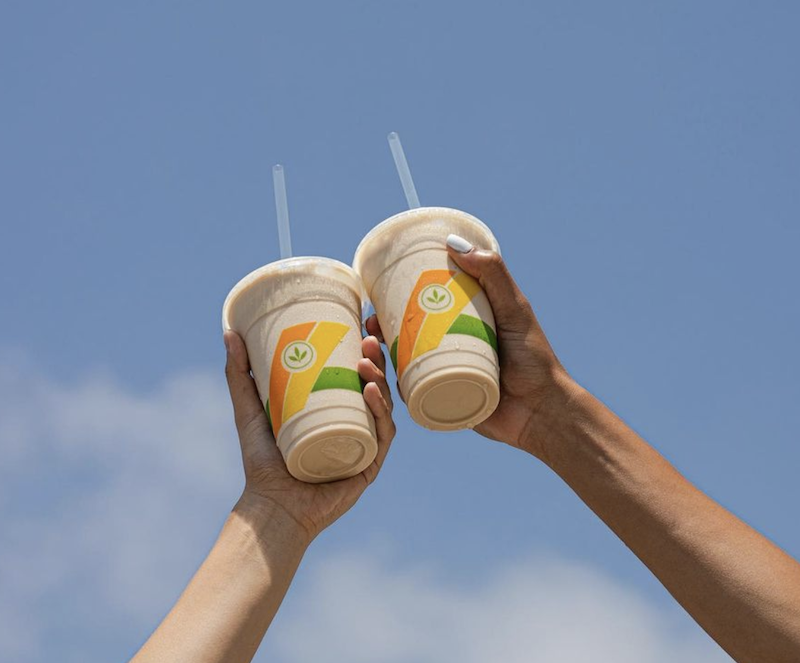 Plant Power Fast Food
10 Plant Power Fast Food
Monty's may mimic In-N-Out, but Plant Power Fast Food has its claim to the vegan McDonald's. The savory menu highlights handholds such as The Big Zac and a 'Fish' Filet Sandwich—both of which pair nicely with a vegan shake. Choose from classic flavors or opt for something a bit off-center with the Horchata or Cookie Butter shake. 
Find out more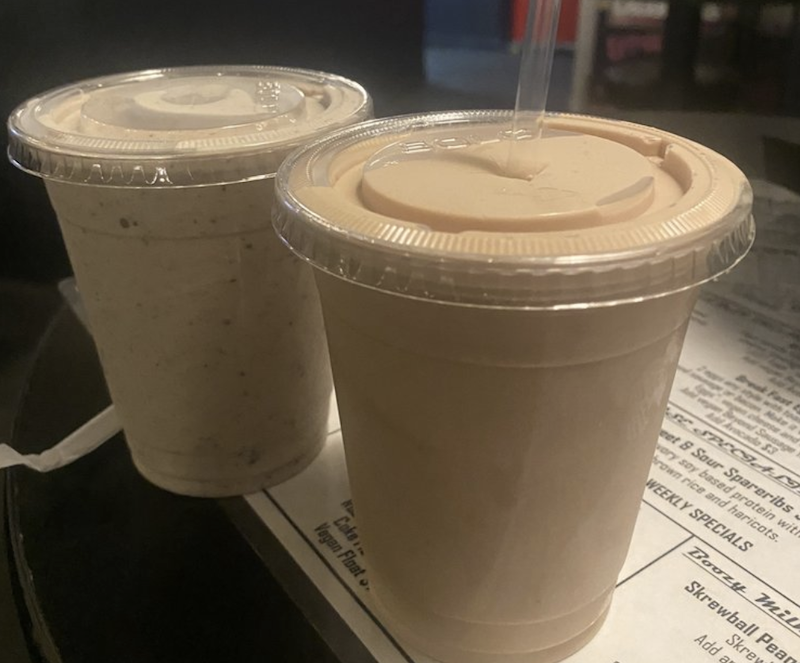 Trisha A./Yelp
11 The Other Side Diner
When you're in Honolulu, HI and crave something a bit creamier than Dole Whip or shaved ice, check out The Other Side. This vegan-friendly eatery offers a collection of milkshakes that can be made vegan upon request (minus the whipped cream). Flavors that caught our eye beyond the basic chocolate, vanilla, and peanut butter include macadamia nut and Chunky Monkey (chocolate, peanut butter, and banana). 
Find out more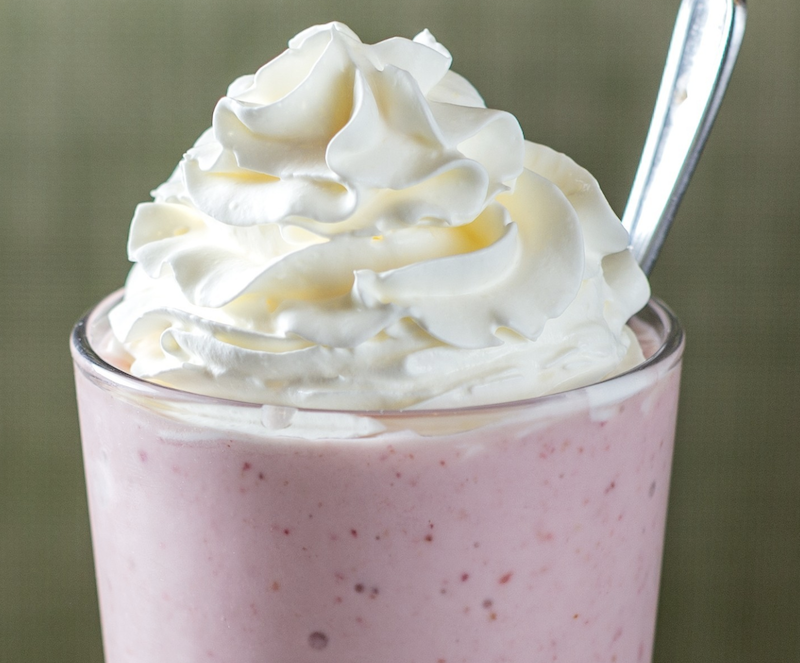 The Chicago Diner
12 The Chicago Diner
More often than not, you can trust in a diner to whip up a quality milkshake. This vegetarian and vegan-friendly Chicago institution offers an assortment of sweet, award-winning shakes made with Temptation's oat-based soft serve. Choose from Chocolate Chip Cookie Dough, Cookie Dough Peanut Butter, Mint Chocolate Chip, strawberry, banana, and more. The savory menu spans everything from Mexican to Thai, but we highly recommend pairing your shake with a plant-based burger or the spicy chicken sandwich. 
Find out more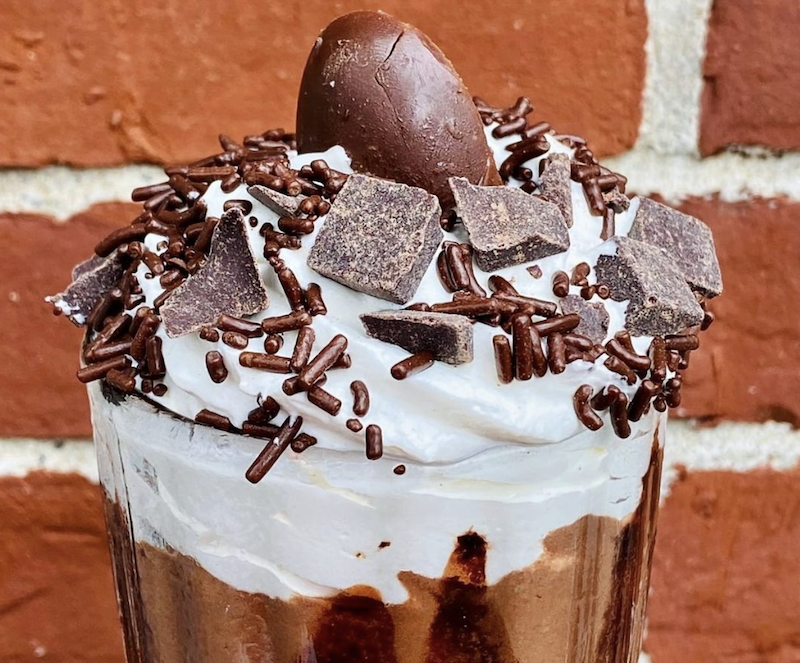 Veggie Galaxy
13 Veggie Galaxy
Tourists be warned: if you ask for a milkshake in Boston, you'll get a glass of milk that's been shaken up. In Beantown, they call it a frappe. Veggie Galaxy in Cambridge serves up frappes alongside its extensive diner and bakery menu, and it's all vegan. The place only grew in popularity after being featured in the Food Network's Diners, Drive-Ins, and Dives. Expect the usual range of flavors made with locally produced FoMu vegan ice cream, plus a few seasonal frappe specials like Matcha. 
Find out more
Vegan Hooligans
14 Vegan Hooligans
Officially crowned the Best Milkshake in LA, Vegan Hooligans' tasty creations are made with a base of vanilla, chocolate, Oreo, strawberry, peanut butter, or vanilla ice cream. And if you have a major sweet tooth, you can opt to "Hooliganize" your shakes with bananas, cherries, nut butter, vegan M&M's, peanut butter cups, and more. It's time to sip away.
Find out more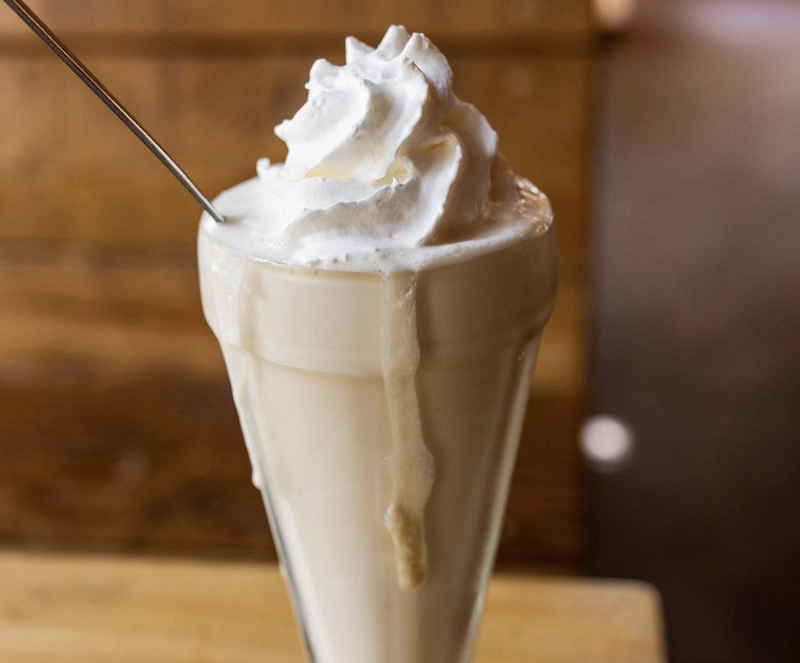 Watercourse Foods
15 Watercourse Foods
Denver locals flock to this comfort food haven for both its sweet and savory menu options. Shake flavors include the standard chocolate, vanilla, and peanut butter chocolate as well as more off-the-cuff offerings like espresso, chai, and matcha. Serving sizes are manageable—12 or 16 ounces—making these milkshakes a perfect accompaniment to some of the heartier menu items.
Find ouT more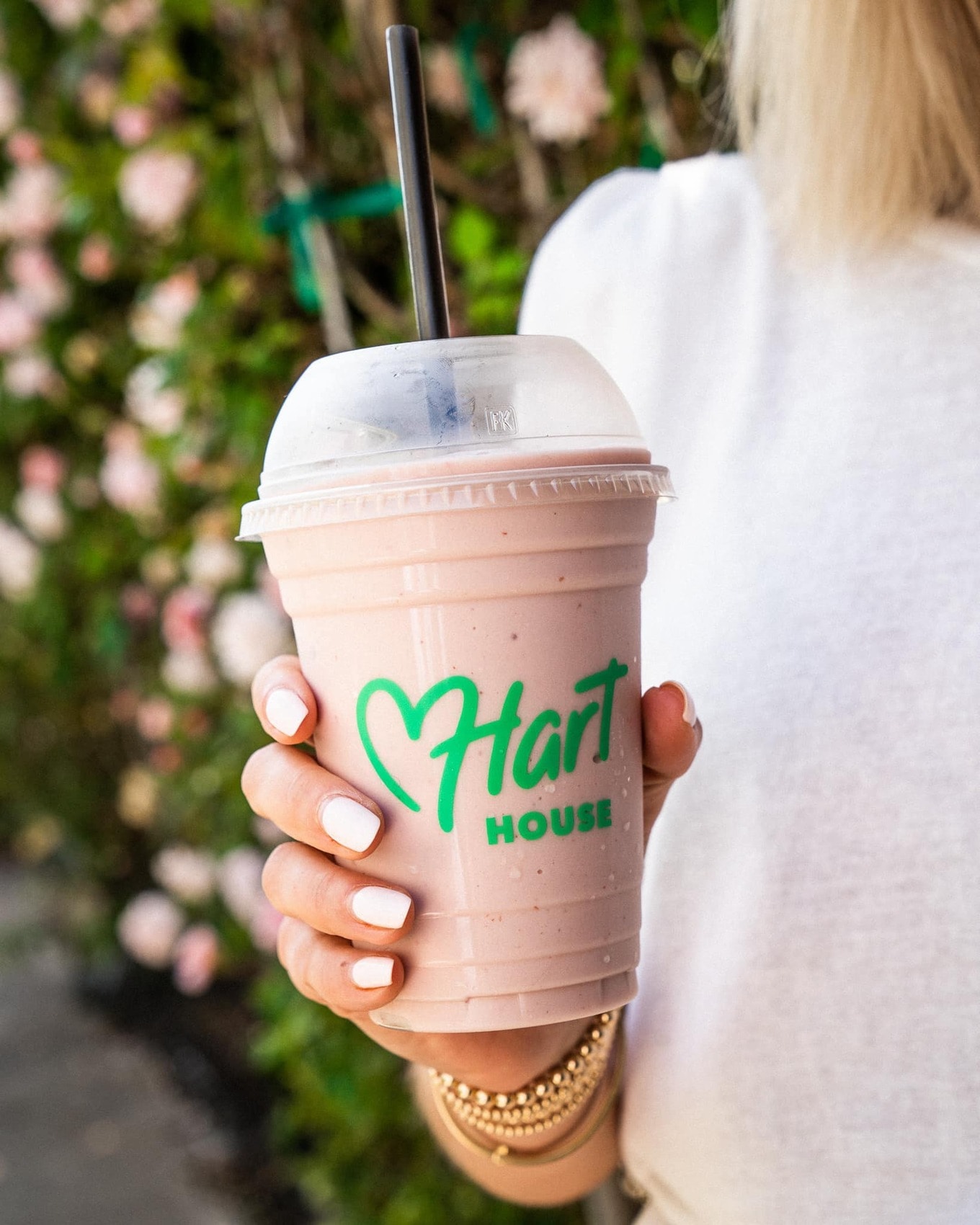 Hart House
16 Hart House
Kevin Hart's rapidly growing vegan fast-food chain is already winning over taste-buds. With four locations in the greater Los Angeles-area, Hart House boasts a simple yet tasty menu that doesn't give customers decision fatigue. Choose between strawberry, vanilla, chocolate, and Oreo flavors when choosing your dairy-free shake. 
Find out more
For more vegan restaurant bests, read: